Print Christmas Gift Wrap!
Easy Christmas Crafts for Children
For Age 2+
Christmas crafts for children are meant to be fun and easy, but they can also be really really useful!
Printing your own Christmas gift wrap with potato prints means you don't have to go and buy it, and you have something much lovelier to parcel up those family presents.
Instructions
You will need
Potatoes
Poster Paints
Lots of tissue or large sheets of A3 coloured paper
Plates for the paint
A knife
Cardboard for templates

Templates - you can download a PDF of a simple star and tree below
Scissors
---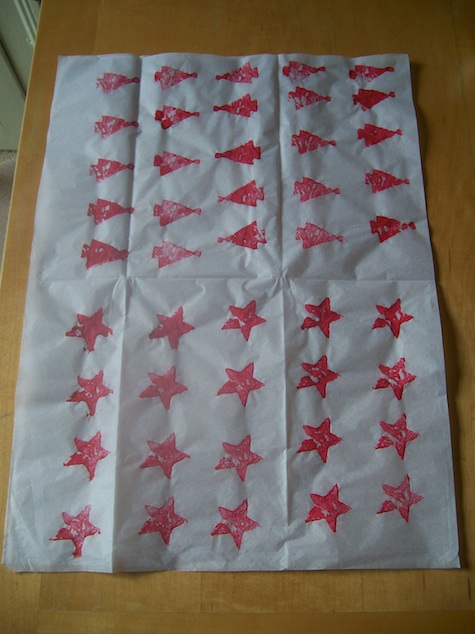 ---
3. Take a large piece of paper (we used tissue paper but you could you coloured paper) and a plate smeared with poster paint. Happy Printing!
TIP: Don't put too much paint on your stamps or the image will smudge....
4. When dry, wrap presents up with these sheets and tye them with some contrasting coloured raffia or ribbon. Beautiful!
Return from Christmas Crafts for Children to Kids Christmas Crafts
Return to Easy Crafts for Kids