Homemade Finger Paint
For 8 months +
Learn how to make homemade finger paint with our finger paint recipe. Also, this recipe is for edible finger paint, so that when your little ones get carried away you won't worry about them eating nasty chemicals.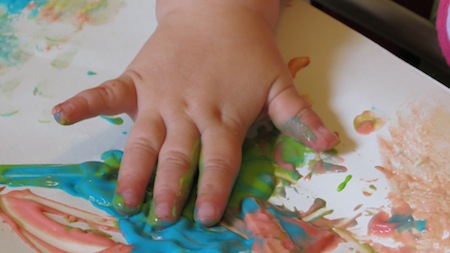 Follow the instructions below for how to make finger paint. Let your toddlers enjoy this messy, creative process of painting with their hands! It's great fun for them and has all the benefits of "messy play."
Instructions

You will need:
2 cups milk powder
1 cup cornflour (cornstarch)
2 cups water
Different food colourings
Popsical sticks for stirring (optional)
Large sheets of craft paper
The great thing about using milk powder and cornstarch together is that you get the thick-ish moose-like consistency without having to heat the cornflower mixture.
---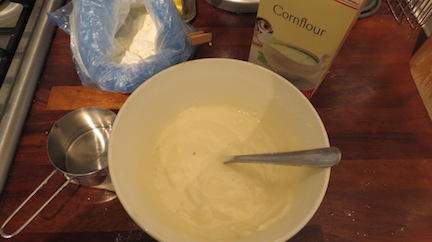 1. Mix the dry ingredients and then add the water stirring all the time to stop it getting lumpy. Give it a really good whipping stir with a spoon until it smooths out and becomes a bit like moose.
---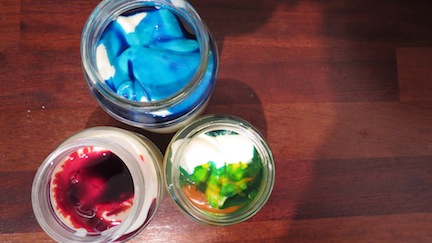 2. Divide the mixture into different containers ready to colour them. I used cleaned out baby food jars as they were what I had lying around. If you are worried about your toddler breaking them then use plastic cups.
Add a few drops of different food colouring to each of the jars.
---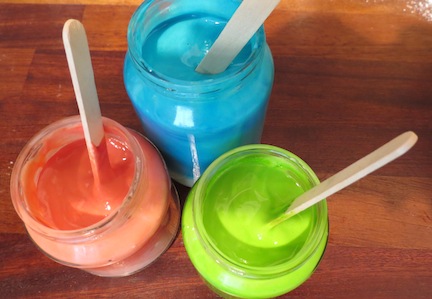 3. Use popsicle sticks (or anything else like them) to stir the food colouring until it is thoroughly mixed. Your finger paint will have a lovely thick, shiny consistency.
---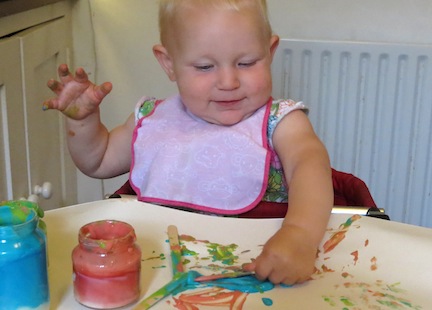 4. Now you are ready to get stuck in! Roll out some paper on the table and secure it to the table (bluetak is good) so that there is lots of space to be creative with. I left the popsicle sticks in the jars so that Beanie Boo could have fun with those too - she seemed to enjoy pasting the paint on with them!
---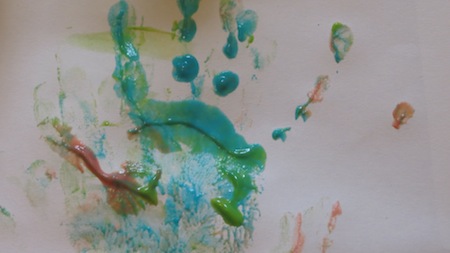 An unexpected handprint from paint slapping!
---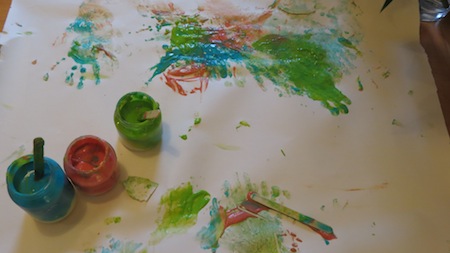 The final masterpiece...!
Return from Homemade Finger Paint to Toddler Activities