Homemade Playdough Recipe
12 months+ (this is not edible)
Here you will find a homemade playdough recipe that you can quickly and easily make to keep your toddlers and preschoolers happily occupied. Very young toddlers will simply enjoy the feel of the dough and have fun squashing it around. Older toddlers will be able to model things.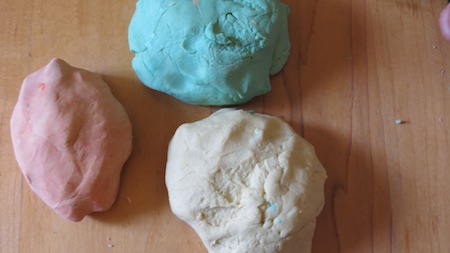 Instructions
Homemade Playdough Recipe
You will need:
2 cups flour
1.5 cups salt
1 cup warm water
2.5 tablespoons vegetable oil
Different coloured food colourings
---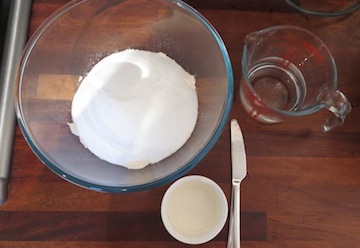 1. Mix the ingredients together in a bowl and knead together into a dough. If you are making this yourself I found using a knife 'cut' the oil and water into the dough well, and I used my hands to bring the dough together.
You might need to add a little more flour or water depending on the consistency of the dough when made.
For more fun, if your toddler can stand on a stool let them stir the bowl as you add the different ingredients. This is as much fun as playing with the finished dough.
---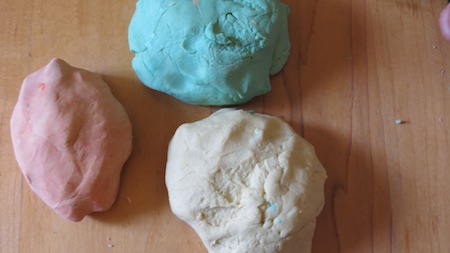 2. Divide into a number of different portions and mix in different food colourings. I only mixed two colours (and kept one plain) as my little one, Beanie Boo (16 months), is still small, and not yet able to mould different shapes.
With older toddlers you could mix 5-6 different colours. This will mean they can mould favourite book or cartoon characters, animals or anything else they fancy!
Remember food colouring goes everywhere so don't let the little ones get hold of it.
---
It's fun time! As you can see this recipe makes up quite a lot of playdough. You could easily make half if you wanted less.
---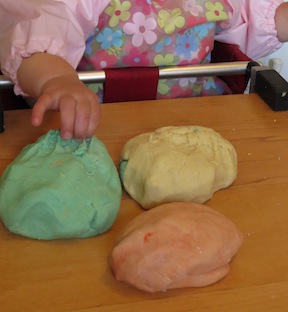 Getting stuck in to some green dough!
---
For more fun I decided to model some simply things and ask Beanie what they were. We started with snail (she was not too sure)......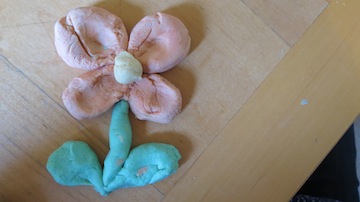 .....then I went on to a make a flower (which she proudly announced as "fowah"), followed by a face -she patted her own head and then destroyed it before I could take a picture! A really fun game for 30 minutes before lunchtime:)
TIP: The play dough will last a while in the fridge if put in an airtight container. When you remove it for use again, roll and knead some more flour into it to make it less sticky. I have reused one batch three times now, always adding more flour each time it comes out of the fridge.
Return from Homemade Playdough Recipe to Toddler Activities