Votive Lanterns
Valentine Projects for Kids
For Ages 3+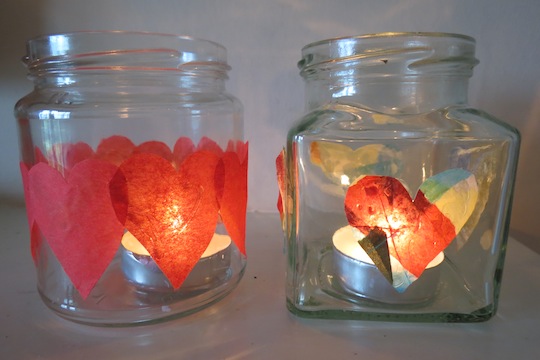 Are you looking for some new Valentine projects for your kids ready for February 14th this year? Why not make these easy and pretty heart votive lanterns with your kids....
This is one of our valentine day crafts for kids that is quick, easy and lots of fun. The votives also make great ornaments for the table. We love them!
Instructions

You will need:
A number of empty and clean jam jars
Different coloured tissue paper (including red and pink)
PVA glue
Small tea-lights to go inside the jars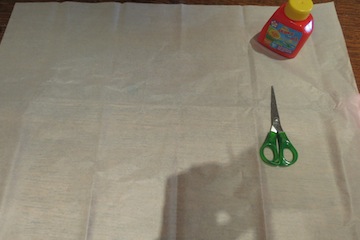 1. Clear an area of table and lay out a sheet of white tissue paper. Cover half of the sheet in PVA glue using a paint brush.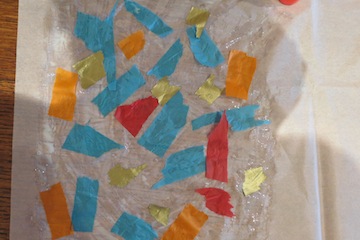 2. Take a variety of different coloured tissue paper and rip them into small strips. Stick them to the glue-covered tissue. Cover the page, overlapping the strips so you get a really colourful effect.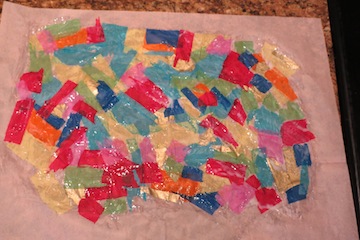 3. Cover all the strips of ripped tissue in a thin amount of glue and leave it to dry. This might take 30 minutes or so. The glue dries clear to create a sheet of "stained-glass" effect paper.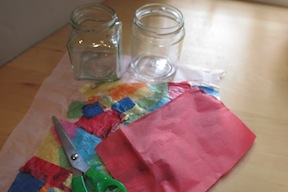 4. While you wait for your stain-glass effect paper to dry, take a sheet of red or pink tissue and cut out 5-6 medium size hearts. When dry do the same with your stained-glass paper.
---
5. Stick your hearts around the jar with PVA glue. You can space them out or stick them close together.Why not make a number of votives for the table or across the fireplace?
Finally, place a tea-light in the bottom of each lantern and light (adults only).
TIP: Keep any left-over "stain-glass" paper as it's really useful for other projects like Christmas lanterns or Xmas window ornaments...
We hope you have enjoyed trying this, and all our other valentines projects! If you are still looking for fun and easy valentines ideas check out our other valentine day crafts for kids here
Return from Votive Lanterns Valentine Projects to Valentine Crafts for Kids
Return to Easy Crafts for Kids (Homepage)